UMBC Takes the Stairs Prize Winner!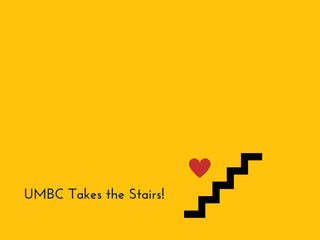 Congratulations to our second winner of the Take the Stairs competition for the April and May timeframe...Mallela Ralliford from Procurement! Mallela will be receiving a $25 campus card!
This is the second time Mallela has won and when asked about what motivates her to take the stairs, she commented: "It's the benefit that a continuous routine brings and knowing that our body needs it. I have incorporated taking the steps into my regular exercise routine and have been excited to not only FEEL but SEE the results!" Mallela has clearly made wellness part of her daily habits and is seeing the benefit. Sometimes small choices lead to big changes!
By encouraging staff, faculty, and students from all over campus, and especially those in our building, to take the stairs in the Admin Building, we accomplish several important goals, we:
Free up elevators for those who need them;

Increase heart health of our population; and

Reduce Energy
If you are not taking the stairs or need an accommodation, please contact the ADA Coordinator at 5-5745. 
Check out our new set of posters in the stairwells and log your floors! There will be two more opportunities to win prizes in August and September!  Please visit the Wellness Initiative Website for more information and to record your floors!